Anti-hail nets for orchards and vineyards
Intensive fruit and vineyard growing, floriculture and gardening depend on the climatic conditions to a large extent. To defend crops from ice became one of the imperatives in the modern fruit growing business. The anti hail system gets installed into a wooden or concrete construction anchored into the grownd by cables.

Elements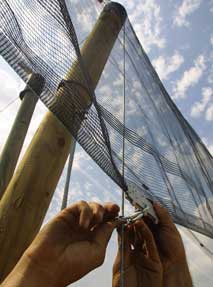 Protection nets
Posts
Protectice caps
Protective side caps
Clamps florina
Clamps češalj
Clamps standard
Big anchor
Small anchor
Steel cables /10, 8, 6, 4 mm/
Loops /10, 6 mm/
Zink wire /2, 3, 4 mm/
Ring /90 mm/
"S" hook
"U"nails
Zink nails
Advantages:

It creates a prosperous microclimate in the plantation
It prevents plantation damages
Favourable price
Use of domestic (croatian) products
Posts
The posts are impregnated by volmanit ckb fluid solution 4,20%, under pressure of 8-10 bars, and afterwards subdued to the process of salt fixation during 28 days, through which it becomes indissoluble by rain, moisture, wind and sun.